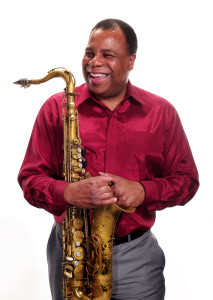 Saxophonist and vocalist Brooks Giles III was raised in Frankfort, Kentucky. The only child of Brooks Giles Jr., and Gloria Wilson Giles, Brooks began playing the tenor saxophone at age ten in the elementary school band. A few years later he began singing with the St. John A.M.E. youth choir.
Brooks' mother, a classically trained vocalist, pianist and organist, guided his musical studies while his uncle, Vance Wilson, a professional saxophonist in Philadelphia, Pennsylvania, became his first major saxophone influence. Throughout his youth the bands of Kentucky State University provided a great inspiration as well.
During high school Brooks led the marching band as drum major and performed in the school's Jazz and Concert bands. He also studied conducting and music theory with the band's visionary director, Thomas Brawner. Brooks studied improvisation with saxophonist Mike Tracy, who was the school's "Jazz Artist in Residence." At the same time he became acquainted with New York saxophonist Arnie Lawrence who was the "Jazz Artist in Residence" of a nearby school district.
After high school Brooks started performing professionally and went on to study music education at The Ohio State University and The University of Maryland Eastern Shore before moving to New York City in 1988. Once in "The Big Apple" he earned a Bachelor of Fine Arts from the New School for Social Research and a Master's of Fine Arts from The Aaron Copland School of Music at Queens College.
While attending The New School, Brooks studied with virtuoso bass guitarist, Rael Wesley Grant and Jazz Greats, Reggie Workman, Junior Mance, Ronnie Matthews, Cecil McBee, Jerry Gonzales, Andy Gonzales, Jackie Paris and Dr. Donald Byrd, who encouraged him to continue his studies at Queens College with legendary composer and saxophonist Jimmy Heath.
By 1989 Brooks had formed the The Brooks Giles Quartet which featured Brad Mehldau on piano, Yas Takeda on bass, and drummer Chuck Feruggia. Guitarist Ron Affif took over for Brad Mehldau in 1990 as the band continued working in and around New York City.
In the early 1990s Brooks divided his time between performances, teaching for the New York City Board of Education and instructing private music students.
From 1993 to 1994 Brooks toured Europe with the Broadway musical "Bubbling Brown Sugar," directed by Billy Wilson. This led to his association with Chicago bassist/vocalist Eldee Young. Brooks toured Asia with The Eldee Young Quartet from 1995 to 2000.
In 2001, Brooks began touring Asia with his own ensembles and as a featured performer with various ensembles. His groups have included vocalist Angela Stribling, pianist Roberta Piket, pianist/organist Oliver Von Essen, bassist Tom Hubbard and drummer George Gray.
Brooks' Asian tours as a leader included the first two "Hennessy X.O. Smooth and Mellow Asian Jazz Tours". While on tour, Brooks and his groups performed in Taiwan, Hong Kong, Mainland China, Malaysia, Singapore and Myanmar/Burma.
Brooks has also been a guest performer with various ensembles in Bangkok, Thailand; Beijing, China; and Shanghai, China.
Over the years Brooks has performed with The Drifters, Martha Reeves and The Vandellas, Donald Byrd, Charli Persip's Supersound, The Peter Duchin Orchestra, The Harlem Renaissance Orchestra and The Apollo Theatre Band.
Brooks released his debut CD "Somewhere On Earth, The Bangkok Sessions" in 2002. He also appeared in the 1999 Woody Allen film "Sweet & Lowdown" starring Sean Penn and Uma Thurman. Brooks plays the role of "B" and performs on the DVD and soundtrack of the 2005 play, written by Gregory Charles Royal, "It's a Hard Bop Life."
In 2008 Brooks was invited to perform alongside The Pancho Aranda Trio at Club Dukes at the Grand Hyatt-Santiago in Santiago, Chile. This collaboration led to Brooks' most recent CD "Romance de Los Andes".
Brooks returned to Asia in 2015 as the featured performer at "Atmosphere" atop "The China World Summit Wing" in Beijing, China.
To this day, Brooks continues to take his music to various parts of the world.
Brief Biography
Brooks Giles Promo Kit 3-11 P. 1